Join our 600+ community of passionate and committed volunteers. Read our CWA Volunteer Handbook for information on volunteering, including how to get trained on the trishaw!
New volunteers: Sign up here.
Existing volunteers: Log in here.
Join our community by making a donation to support our vital work. A donation of any amount is gratefully appreciated and will bring smiles to the seniors of Singapore.
We offer partnerships and employee engagement events that bring value to businesses, while giving seniors an opportunity to engage with their community and avoid social isolation.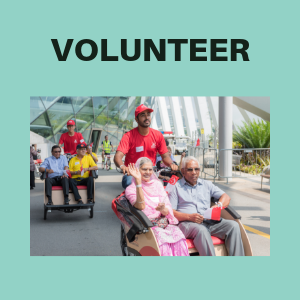 Learn to pilot a trishaw. Take seniors for a ride. Make new friends, young and old. Our trishaw pilots give amazing testimonials about the joy of connecting with seniors and differently-abled people whom we take on rides. There is no experience quite like the wind in your hair… so come on, move with us!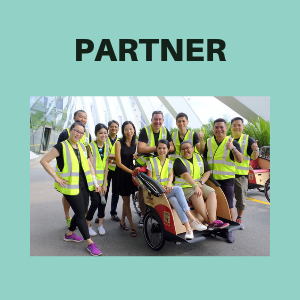 Thank you for organising a great activity! Our staff were invigorated by the interaction with the elders.
Althea Tan, QBE Insurance Singapore
Other ways to get involved…
Become a Passenger!
Have you always cycled, but are not able to do so anymore? We can arrange for our volunteers to let you feel the wind in your hair again.
Offer rides!
Are you a church, temple, care home or have a senior in your life who would love a trishaw ride? We can offer a one-time event or a long-term partnership.
Give Time!
We would also love volunteers who are willing to help us with promoting, fundraising, marketing, event planning and more.