What does it take to bridge the past with the future?
The answer — one trishaw ride.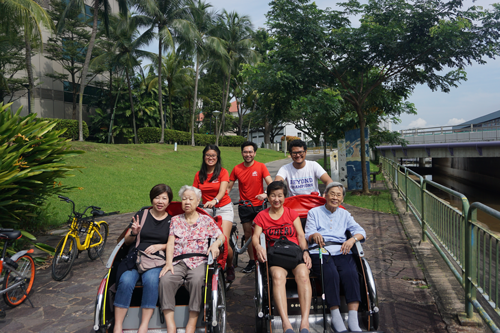 Temasek Foundation Moving Generations is a programme that connects the youth with seniors. Through the trishaw rides organised by Cycling Without Age Singapore and funded by Temasek Foundation, youth have opportunities to engage with seniors in an active setting, allowing them to have meaningful dialogues and learn about the past.
The Temasek Foundation Moving Generations programme have trishaw rides at various locations in Singapore, in partnership with eldercare centres. Each ride with the seniors will take about an hour with youth volunteers cycling through pre-identified routes in the Park Connector Network across Singapore. Wherever you are, there is always an opportunity to be part of this programme.
MOVE WITH US!
Beyond Moving Generations, we welcome all to be willing to join us in our programme. Volunteers are provided with practical training on piloting the trishaws, as well as communication and empathy training to better engage with seniors. Besides piloting the trishaws, you can also volunteer us in other capacities.  
Join us and build conversations together with our seniors today! we look forward to partnering with you! Email your contact details to info@cyclingwithoutage.sg so we can reach out to you with more information on how you can move with us.