A journey with Singapore Youth

From April to November 2019 we conducted the Building Generations programme in collaboration with Sage Foundation, YMCA Elevate 2019 and CWA Singapore.
Building Generations aims to equip the youth with practical life skills to be successful in the future while also enriching their lives and the lives of seniors they interact with in the process. Some of these youth might have fallen through the conventional education system or come from disadvantaged backgrounds.  As a result, they are at risk of dropping out of school, and less likely to transition into their adult years with financial independence, career success, and economic stability. CWA Singapore strongly believes that, given the right tools and catered training, these youth can be successful in life. 
With an Aging Simulation, Empathy and Communication Skills training the youth learned different communication styles while going through interactive activities. After receiving two trishaw handling training, the youth participated in a few interactive sessions with residents from Sree Narayana Mission Nursing Home Yishun and sang karaoke songs with seniors going to Thong Kheng Senior Activity Centre!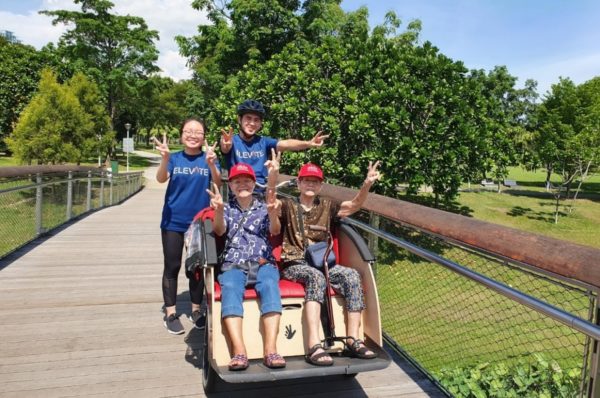 Once the youth showed their communication skills during the engaging activities with the seniors they were ready to get out on the trishaw. Every week the youth went down to our senior care partners to take the seniors out for a trishaw ride. During the rides the youth received advice from the seniors, they talked about signature Singapore dishes and the challenges young and old face today. Most of all we saw a lot of smiles and heard loud laughing during the trishaw rides, from both the youth and the seniors.
During the last day of this programme, the youth and invited seniors were part of our Singapore Record by bringing out the most seniors for a free trishaw ride at Sentosa Cove. Here the youth could show what they have learned throughout the programme and they received a personal certificate of participation in Building Generations 2019.
This project impacted the community by fostering social connectedness between the youngest and the oldest generations.
The results of the programme showed an increase in self-confidence and communication skills of the youth. The programme made the youth feel closer to their friends, the seniors and community. The youth also showed an increase in their empathy towards seniors.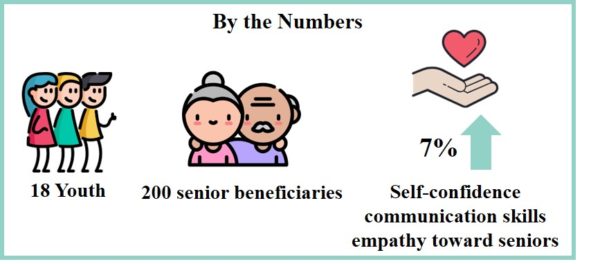 These outcomes will have an impact on a broader community as confidence, communication and empathy are life skills the youth can use in a range of sessions as well as easily transfer within their daily life. With these skills they have the availability to contribute and give back to the community.